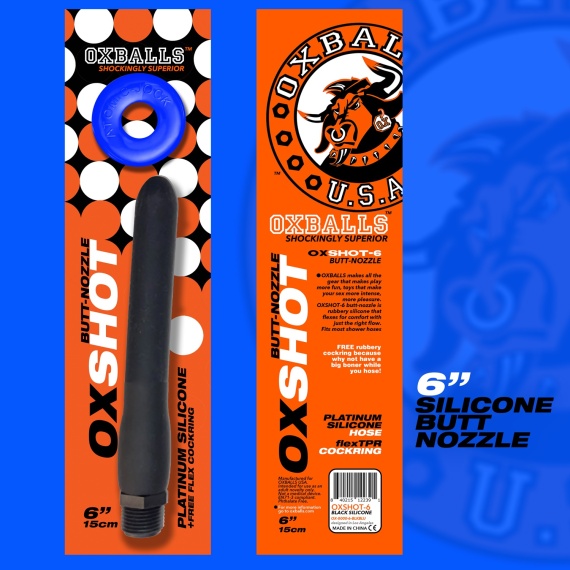  
OXSHOT Shower Nozzle 6 inch
Anal enema is a chore ? The OXSHOT 6" nozzle gets the job done faster, easier and more comfortably. The flexible hose is made of high quality silicone for smooth intrusion, so much better than hard plastic or metal nozzles. It has a tapered tip with a flared water hole for better flow and so you can direct it where you need it.
The nylon threaded connection fits all shower hoses and does not leak.
For even more comfortable use, we recommend a water-based lubricant or a hybrid lubricant.
Cleaning: Detergent and hot water, dishwasher, diluted bleach/water solution. Rinse well after cleaning.
Information and dimensions:
OXSHOT-6
Insertable length: 6" / 15 cm
Tip Diameter: 0.5" / 13mm
Base Diameter: 1.75" / 44mm
Circumference at head: 2.75" / 7 cm
Base Circumference: 3.25" / 83mm
Product weight: 1.9 oz/ 54 g
INCLUDED ATOMIC C-RING JOCK
Width: 2" / 5cm
Depth: 0.5/13mm
Outer circumference: 6.25" / 16 cm
Inner circumference: 2.5" / 6 cm
Product weight: 2.6 oz/ 74 g