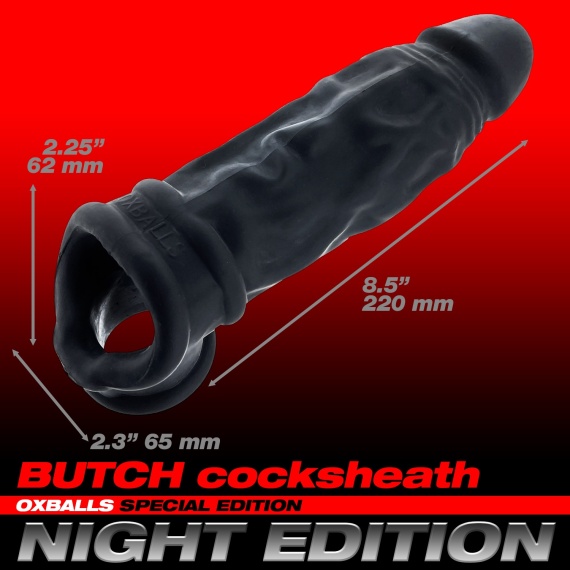  
BUTCH Cocksheath Night Edition
Built-in COCKSLING at the base keeps BUTCH in place
Bullet insert lets you customize the fit and feel of the inner chamber
Made from our super-soft, stretchy SuperFLEXtpr
Blubbery sheath increases natural girth and length
Flared head and hefty, vein covered design

At OXBALLS, few things get us as hot as a hefty trucker cock, and butch blue-collar boys always seem to have the best bulges.

Now, you can transform your hog into a seriously veiny slab of beefy bubba cock. BUTCH is a blubbery cocksheath with a built-in COCKSLING-2 attached at the base.
Lube it up (and don't forget to generously coat the inside), slap it on, and enjoy the sloppy sucking enveloping your engorged member as your boy clamps his guts down on your massive BUTCH dick.
Length: 8.25" / 21cm - Inside length: 7" / 17,8cm Circunference: 7,25" / 18,4cm
Also available in clear
FLEX-TPR safe, non-toxic…and phthalate free
Lube safe:  water-based