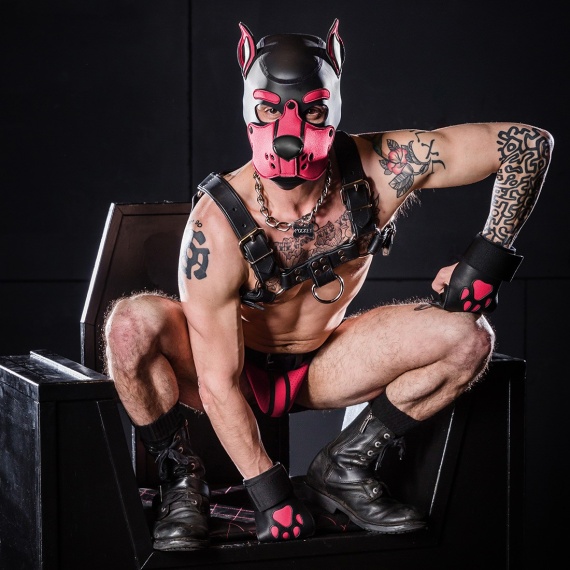  
Neoprene k9 hood Pink
K9 Puppy hood MR-S-LEATHER
Creators of the original Neo Puppy Hood Mr S Leather is back at it with its newest rendition – the Neo K9 Hood.  This new version features amped up details including a more realistic nose and ear design.  They also included some of the features you love from our original version like moldable ears and removable muzzle.  We're really proud of all the hard work their team put in designing this hood, and we know it's one you're going to love wearing!
Neo K9 Hood comes in 16 stock colors, so you can find the hood that matches your puppy personality perfectly. Same great fit as the original. Just slip this super comfy hood over your head you'll immediately be transformed into a playful puppy.
A metal backbone in the ears allow you to shape your ears to show everyone whether you're in a playful or alert mood. When things heat up, the muzzle can be unsnapped and removed, so you can get some air but still stay in pup mode.
They included a loop at the base of the hood, so you can attach your hood directly to you with a carabiner, so it's always close even when you aren't wearing it !
SIZE M
Brow Circumference: 22 - 23 in / 56 - 58,5cm
Chin Over Crown: 26 in / 66cm
SIZE L
Brow Circumference: 23 - 24 in / 59 - 61cm
Chin Over Crown: 27 in / 69cm
MATERIAL
COLORS
Camo
Royal blue
Grey
Hunter green
Black
Lime green
Cobalt
Navy
Orange
Purple
Aqua
Red
Brown
Pink
White
Yellow
The best Poppers at the best prices
From only €6.50 !
POPPERS
IT'S HERE