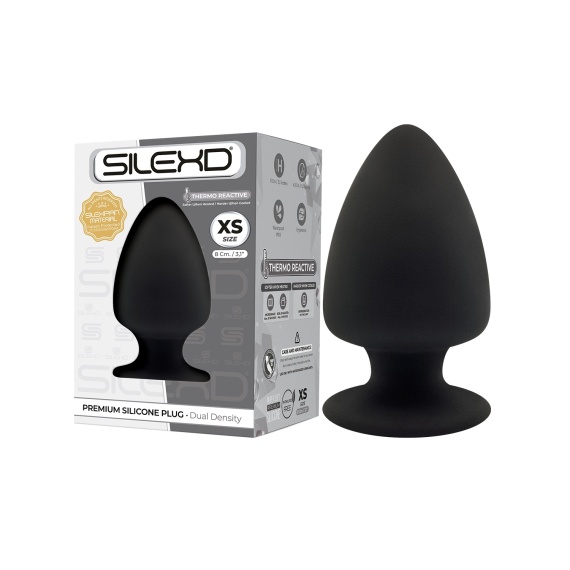  
Double Density XS Anal Plug Model 1
Silicone plug SILEXD
SilexD offers fans of anal pleasure this butt plug size XSmall, double density and thermo reactive, 8 cm long by 4.5 cm in diameter, made of Premium shape memory silicone.
The XS SilexD plug features an ultra soft premium silicone skin with dual density Silexpan filling and a hard inner core, for extremely realistic sensations.
The revolutionary patented SILEXPAN formula used to fill the anal plug allows for better density and greater flexibility of the plug. This surprising material offers greater elasticity of the sex toy.
For more anal sensations, the sex toys in the SilexD dual sensation range can be placed in the refrigerator to make them firmer or in the microwave for less than 60 seconds to make them more flexible.
The SilexD model 1 anal plug is available in 4 sizes:
Anal plug size XS: 8 x 4.5 cm
Anal plug size S: 9 x 5.2 cm
Anal plug size M: 11 x 6.2 cm
Anal plug size L: 13 x 7.2 cm
Features :
Black silicone butt plug
Very flexible shape memory plug
Realistic "soft" touch
Inner material: Silexpan
Outer material: Ultra soft high quality silicone
Waterproof
Non-porous
Size: 8 x 4.5cm
Without phthalates
latex free
Hypoallergenic
Easy to clean
The best Poppers at the best prices
From only €6.50 !
POPPERS
IT'S HERE